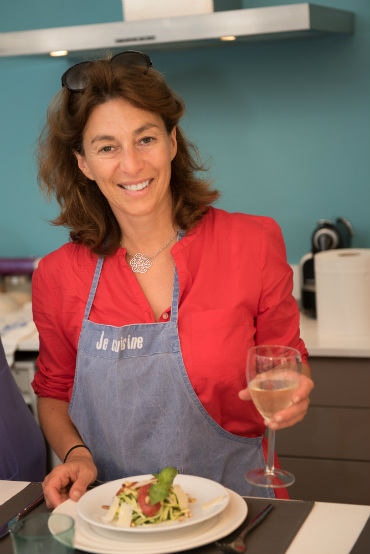 Mathilde PLOIX
Mathilde's love of cooking and fresh seasonal produce was gained at a very young age amongst long-established family traditions.  As a small child, she watched as her grandmother prepared "foie gras" for Christmas, and in the summer she cooked tasty tomato sauces and preserved fruits and vegetables. Her mother, Brigitte, a fine cook who was also a culinary critic instilled in her an uncompromising desire for top quality produce.  Now, as an adult, preparing a meal for gatherings of family and friends is one of Mathilde's greatest pleasures. 
After an 18 year career in Marketing and Sales management, Mathilde moved to Aix-en-Provence with her family and runed her own cooking school, the Atelier de Cuisine de Mathilde, in Aix en Provence from 2013 to 2022.  After a year working alongside her colleague, Jennifer, the founder of Tastes of Provence, Mathilde then acquired Tastes of Provence, continuing to provide and develop gourmet walking tours Nothing gives her greater enjoyment than sharing the wonderful and varied produce offered by stallholders and traditional small food shops with visitors, which brings alive the colorful and delicious character of Aix-en-Provence.
With her love of the city of Aix, through Tastes of Provence, Mathilde naturally provides an immersive experience.  She ensures that, by discovering the town through a local's eye, her guests discover the same magic that makes her want to call Aix-en-Provence home.