tastesofprovence gourmet walking tours and cooking classes
Aix en Provence is a city known for its incredible lifestyle and Tastes of Provence invites you to discover it through your taste buds. We offer you a choice of immersive, gourmet experiences, from Gourmet Walking tours to cooking classes, each designed to help you understand the French way of life, meet locals, and enjoy the daily traditions yourself.
Join your passionate gourmet guides, as we stroll through historic, golden streets, dipping in and out of food shops, tasting local specialties and learning tidbits of history during our foodie tour. Each memorable gourmet walking tour includes a trip to the 700 year old marketplace, where we meet the local farmers and are treated to their unique food products. From our signature Farmers Market & Food Shop Tour, a guided tour of the markets and cooking class at Mathilde's own "atelier de cuisine", and options for private groups, you'll find a food tour that tempts your appetite. After all, isn't this why you came to France?!
Enjoy an immersive morning farmers' market and local food specialists tour that will dazzle your tastebuds and your senses…
Live the daily routine of market shopping and cooking a traditional French lunch with Chef Mathilde in her historic old town cooking school.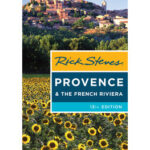 Rick Steves in his « Provence & French Riviera » guide talks about us:
« Tastes of Provence offers guests a unique "taste" of daily life and food in Aix-en-Provence. You can join a small-group, gourmet walking tour with Mathilde and Jennifer, meeting locals in specialty food shops and at farmers markets while tasting sweet and savory regional specialties. You'll learn about history behind the city's food traditions while meeting the families whose businesses represent the best addresses in town. »
All guest receive a copy of the Foodies' Guide to Aix-en-Provence, packed with restaurants and shopping suggestions, dining out tips, local wine information and seasonal recipes!